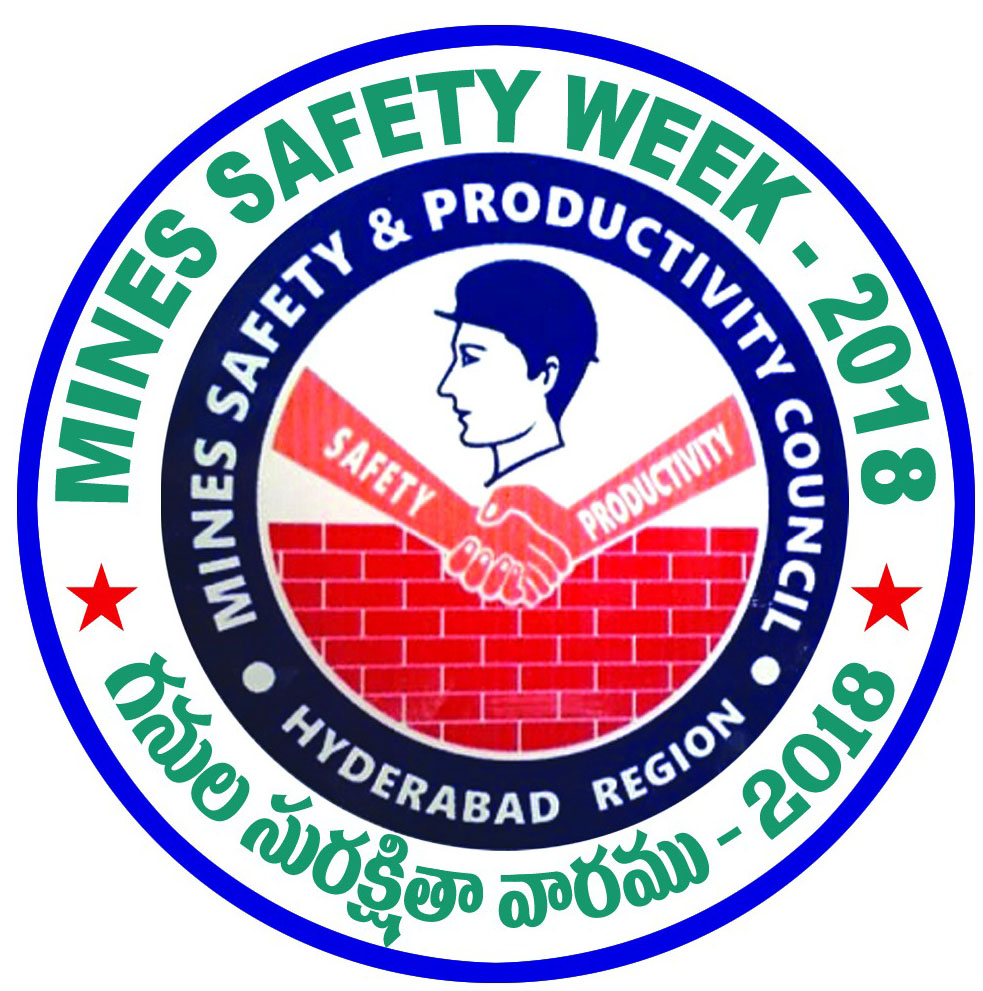 Theme for MS&PC 2018
"CONTROL ON PREVENTION, LIBERATION & PROPAGATION OF AIR BORNE DUST IN MINES"
Mines Safety & Productivity Council (MS&PC) celebrates Mines Safety Week every year under the aegis of Directorate General of Mines Safety, Hyderabad Region. The Mines of Andhra Pradesh(Excluding Anantapur and Karnool Districts) and Telangana are covered in this region.
The Mine Safety and Productivity Council, Hyderabad region was formed in the year 1985 under the guidance of the Director of Mine Safety Sri. Vasudeva, with 7 Mines of Limestone attached to the Cement manufacturing companies – RAASI (now ICL), Vishunupuram, Nalgonda District, ORIENT,Devapur,Adilabad District, CORAMANDAL,Nalgonda District, ANDHRA Cements,Dachepalli,Guntur District, KCP Cements,Macherla, CCI,Yerraguntla,Kadapa District, KESORAM,Basanth Nagar,Adilabad District, PRIYA Cements,Ramapuram,Nalgonda District and Lime Stone Mines of Small Cement Companies – DECCAN, HEMADRI, SUVARNA together under the pioneership of Sarva Shree V.Raja Rao of RAASI, Mallaiah of Priya, K.P. Rao of DECCAN, started these safety week celebrations. Gradually the number of Mines participation increased, now it is 36 companies and 43 Mines are participating.
In the year 1997 Group Vocational Training Center was started at RAASI Cements under the name of RMGVTC, Vishnupuram to provide Basic and Refresher Training under MVT Rules to the employees of these Limestone Mines belonging to different Cement Companies.
The then GMs, Dy GMs, Sr. Managers, Geologists, Survivors – Sarva Sri BSP Raju, K.S.Raju, K.V. Ramana, DAP Swamy, Thaondiaman, Udaya Bhaskar took the initiative to coach the Limestone Mining personnel for Blaster, Mine Mate and Foreman Exam at VTC Vishnupuram.
In the year 1999 started coaching classes to prepare the aspirant for Mine Managers Examinations.
From the year 2004 to 2007 the coaching classes were conducted at Hyderabad under the guidance of Sri. Villas Teggi, DGMS Officers. A good number of candidates took maximum benefit of the Coaching and passed in I and II class Mine Mangers Exams.
In the year 2006 the MS&PC Hyderabad Region Purchased a Flat (800 sft with Washroom Facilities) in the RR Towers for Rs.10,00,000/- and in the year 2008, started using, with appointment of VTO, for council meeting and coaching classes – Manager Exam and Providing Basic Training under MVT Rules to the persons working in small Granite, Quartz and feldspar Mines, around Hyderabad, numbering about 200.
Coaching for Managers First and Second Class exams started in this center form 2008 with the guidance and services of DGMS officials.
From 2008 to 2012 coaching cum preparatory classes were conducted. The candidates taken coaching out of 161 Candidates 38 passed First Class Managers Exam, out of 105 Candidate 25 Passed Second Class Managers Exam.
MS&PC Hyderabad region from 2009, under aegis of DGMS has been organizing the Supervisory Development Program for the Supervisors of Limestone Mines of Cement Companies - Members of the Council, about 6 to 8 programs each year fulfilling the recommendations of the 10th and 11th conferences on Safety Mines. So far 65 programs on various topics have been organized and 1467 supervisors from various Mines of Limestone, Dolamite and Barytes have benefited participating in the Program.
In the year 2010 the office has been renovated to accommodate 50 persons, with dais to be seated 6 dignitaries on it, Comfortable Chairs, 2 Air Conditioners, PA System PPP Facilities and Inverter to conduct Council meeting here itself. This is also meeting the needs of private organizations to conduct their annual General Body Meetings, Coaching Classes for GATE exam on rent, enabling the center generating internal income.